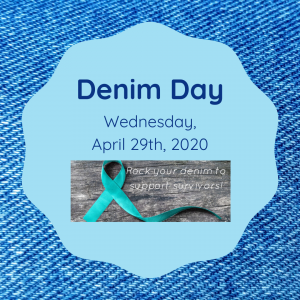 Denim Day, April 29th, 2020
Denim day is an international awareness event run by Peace Over Violence to support survivors and addressing victim-blaming. The campaign began after a ruling by the Italian Supreme Court where a  rape conviction was overturned because the justices felt the victim's jeans were too tight, so she must have given consent because she had to help person who raped her remove her jeans. The day after this rule was handed down, women in the Italian Parliament wore jeans in protest to stand in solidarity with the survivor.  To learn more, about Denim Day and it's origins, read this link. 
So wear your denim to show solidarity with survivors! Share on social media and post your reason why you're wearing denim, to start a conversation in your community.
Take Back the Night, Thursday, April 30th, 2020
At Wesleyan, and internationally, Take Back the Night is traditionally a night to honor survivors of interpersonal violence to create space for themselves to process and heal. It is hosted at night to challenge victim-blaming narratives that female-identifying folks should not walk alone at night, to prevent sexual violence. In our world of social distancing, there is an international virtual Take Back the Night Event being hosted by the Take Back the Night Foundation. This will be an hour long event with speakers form all over the globe, showing up to share poetry, healing activities, and take up space to honor survivors.  To show solidarity with survivors and register for this event, click here.