Hi Everyone,
I hope this note finds y'all well and finding time to care for yourselves amidst these stressful times.
As a part of Survivor Solidarity Month, below is a list of books curated by Angie Makomenaw, Mental Health Education and Prevention Coordinator in CAPS. If you're looking for resources on scholarship, advocacy, and narratives in the field of survivor advocacy and violence prevention education, here is a great place to start.
Sending light and positive energy to you all.
Take care,
Johanna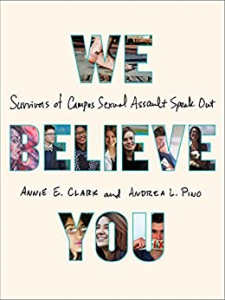 We Believe You: Survivors of Campus Sexual Assault Speak Out by Annie E. Clark and Andrea L. Pino 
More than one in five women and 5 percent of men are sexually assaulted while at college. Some survivors are coming forward; others are not. In We Believe You, students from every kind of college and university—large and small, public and private, highly selective and less so—share experiences of trauma, healing, and everyday activism, representing a diversity of races, economic and family backgrounds, gender identities, immigration statuses, interests, capacities, and loves. Theirs is a bold, irrefutable sampling of voices and stories that should speak to all.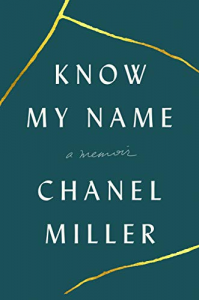 Know My Name: A Memoir by Chanel Miller 
She was known to the world as Emily Doe when she stunned millions with a letter. Brock Turner had been sentenced to just six months in county jail after he was found sexually assaulting her on Stanford's campus. Her victim impact statement was posted on BuzzFeed, where it instantly went viral – viewed by 11 million people within four days, it was translated globally and read on the floor of Congress; it inspired changes in California law and the recall of the judge in the case. Thousands wrote to say that she had given them the courage to share their own experiences of assault for the first time.  
Now, she reclaims her identity to tell her story of trauma, transcendence, and the power of words. It was the perfect case, in many ways – there were eyewitnesses, Turner ran away, physical evidence was immediately secured. But her struggles with isolation and shame during the aftermath and the trial reveal the oppression victims face in even the best-case scenarios. Her story illuminates a culture biased to protect perpetrators, indicts a criminal justice system designed to fail the most vulnerable, and, ultimately, shines with the courage required to move through suffering and live a full and beautiful life.  
Know My Name will forever transform the way we think about sexual assault, challenging our beliefs about what is acceptable and speaking truth to the tumultuous reality of healing. It also introduces listeners to an extraordinary writer, one whose words have already changed our world. Entwining pain, resilience, and humor, this memoir will stand as a modern classic.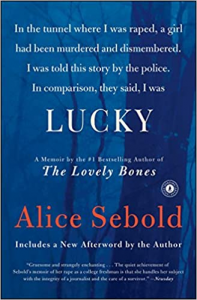 Lucky by Alice Sebold 
In a memoir hailed for its searing candor, as well as its wit, Alice Sebold reveals how her life was transformed when, as an eighteen-year-old college freshman, she was brutally raped and beaten in a park near campus. What ultimately propels this chronicle of sexual assault and its aftermath is Sebold's indomitable spirit, as she fights to secure her rapist's arrest and conviction and comes to terms with a relationship to the world that has forever changed. With over a million copies in print, Lucky has touched the lives of a generation of readers. Sebold illuminates the experience of trauma victims and imparts a wisdom profoundly hard-won: "You save yourself or you remain unsaved." Now reissued with a new afterword by the author, her story remains as urgent as it was when it was first published eighteen years ago.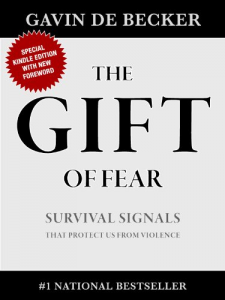 The Gift of Fear: Survivor Signals that Protect Us from Violence by Gavin De Becker 
These days, no one in America feels immune to violence. But now, in this extraordinary groundbreaking book, the nation's leading expert on predicting violent behavior unlocks the puzzle of human violence and shows that, like every creature on earth, we have within us the ability to predict the harm others might do us and get out of its way. Contrary to popular myth, human violence almost always has a discernible motive and is preceded by clear warning signs. 
Through dozens of compelling examples from his own career, Gavin de Becker teaches us how to read the signs, using our most basic but often most discounted survival skill – our intuition. The Gift of Fear is a remarkable, unique combination of practical guidance on leading a safer life and profound insight into human behavior.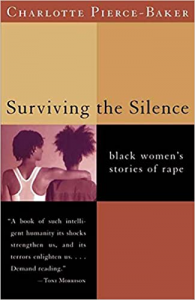 Surviving the Silence: Black Women's Stories of Rape by Charlotte Pierce-Baker 
In this "intelligent", "stunning", and "honest" book, Charlotte Pierce-Baker weaves together the accounts of black women who have been raped and who have felt that they had to remain silent in order to protect themselves and their race. 
It opens with the author's harrowing and courageous account of her rape and includes the stories of the author's own family's response, plus the voices of black men who have supported rape survivors.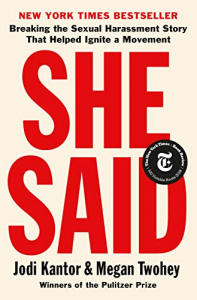 She Said: Breaking the Sexual Harassment Story That Helped Ignite a Movement by Jodi Kantor and Megan Twohey 
From the Pulitzer Prize-winning reporters who broke the news of Harvey Weinstein's sexual harassment and abuse for the New York Times, Jodi Kantor and Megan Twohey, the thrilling untold story of their investigation and its consequences for the #MeToo movement 
For many years, reporters had tried to get to the truth about Harvey Weinstein's treatment of women. Rumors of wrongdoing had long circulated. But in 2017, when Jodi Kantor and Megan Twohey began their investigation into the prominent Hollywood producer for the New York Times, his name was still synonymous with power. During months of confidential interviews with top actresses, former Weinstein employees, and other sources, many disturbing and long-buried allegations were unearthed, and a web of onerous secret payouts and nondisclosure agreements was revealed. These shadowy settlements had long been used to hide sexual harassment and abuse, but with a breakthrough reporting technique Kantor and Twohey helped to expose it. But Weinstein had evaded scrutiny in the past, and he was not going down without a fight; he employed a team of high-profile lawyers, private investigators, and other allies to thwart the investigation. When Kantor and Twohey were finally able to convince some sources to go on the record, a dramatic final showdown between Weinstein and the New York Times was set in motion. 
Nothing could have prepared Kantor and Twohey for what followed the publication of their initial Weinstein story on October 5, 2017. Within days, a veritable Pandora's box of sexual harassment and abuse was opened. Women all over the world came forward with their own traumatic stories. Over the next twelve months, hundreds of men from every walk of life and industry were outed following allegations of wrongdoing. But did too much change—or not enough? Those questions hung in the air months later as Brett Kavanaugh was nominated to the Supreme Court, and Christine Blasey Ford came forward to testify that he had assaulted her decades earlier. Kantor and Twohey, who had unique access to Ford and her team, bring to light the odyssey that led her to come forward, the overwhelming forces that came to bear on her, and what happened after she shared her allegation with the world. 
In the tradition of great investigative journalism, She Said tells a thrilling story about the power of truth, with shocking new information from hidden sources. Kantor and Twohey describe not only the consequences of their reporting for the #MeToo movement, but the inspiring and affecting journeys of the women who spoke up—for the sake of other women, for future generations, and for themselves.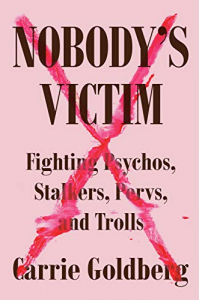 Nobody's Victim: Fighting Psychos, Stalkers, Pervs, and Trolls 
Nobody's Victim is an unflinching look at a hidden world most people don't know exists—one of stalking, blackmail, and sexual violence, online and off—and the incredible story of how one lawyer, determined to fight back, turned her own hell into a revolution.    
Riveting and an essential timely conversation-starter, Nobody's Victim invites readers to join Carrie on the front lines of the war against sexual violence and privacy violations as she fights for revenge porn and sextortion laws, uncovers major Title IX violations, and sues the hell out of tech companies, schools, and powerful sexual predators. Her battleground is the courtroom; her crusade is to transform clients from victims into warriors. 
In gripping detail, Carrie shares the diabolical ways her clients are attacked and how she, through her unique combination of advocacy, badass relentlessness, risk-taking, and client-empowerment, pursues justice for them all. There are stories about a woman whose ex-boyfriend made fake bomb threats in her name and caused a national panic; a fifteen-year-old girl who was sexually assaulted on school grounds and then suspended when she reported the attack; and a man whose ex-boyfriend used a dating app to send more than 1,200 men to ex's home and work for sex. With breathtaking honesty, Carrie also shares her own shattering story about why she began her work and the uphill battle of building a business. 
While her clients are a diverse group—from every gender, sexual orientation, age, class, race, religion, occupation, and background—the offenders are not. They are highly predictable. In this book, Carrie offers a taxonomy of the four types of offenders she encounters most often at her firm: assholes, psychos, pervs, and trolls. "If we recognize the patterns of these perpetrators," she explains, "we know how to fight back."   
Deeply personal yet achingly universal, Nobody's Victim is a bold and much-needed analysis of victim protection in the era of the Internet. This book is an urgent warning of a coming crisis, a predictor of imminent danger, and a weapon to take back control and protect ourselves—both online and off.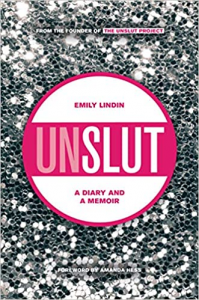 UnSlut: A Diary and a Memoir by Emily Lindin 
When Emily Lindin was eleven years old, she was branded a "slut" by the rest of her classmates. For the next few years of her life, she was bullied incessantly at school, after school, and online. At the time, Emily didn't feel comfortable confiding in her parents or in the other adults in her life. But she did keep a diary… UnSlut presents that diary, word for word, with split-page commentary to provide context and perspective. This unique diary and memoir sheds light on the important issues of sexual bullying, slut shaming, and the murky mores of adolescent sexual development. Readers will see themselves in Emily's story―whether as the bully, the shamed, or the passive bystander. This book also includes advice and commentary from a variety of distinguished experts.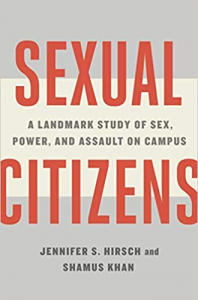 Sexual Citizens: A Landmark Study of Sex, Power, and Assault on Campus by Jennifer Hirsch and Shamus Khan 
A groundbreaking study that transforms how we see and address the most misunderstood problem on college campuses: widespread sexual assault. 
The fear of campus sexual assault has become an inextricable part of the college experience. Research has shown that by the time they graduate, as many as one in three women and almost one in six men will have been sexually assaulted. But why is sexual assault such a common feature of college life? And what can be done to prevent it? Drawing on the Sexual Health Initiative to Foster Transformation (SHIFT) at Columbia University, the most comprehensive study of sexual assault on a campus to date, Jennifer S. Hirsch and Shamus Khan present an entirely new framework that emphasizes sexual assault's social roots—transcending current debates about consent, predators in a "hunting ground," and the dangers of hooking up. 
Sexual Citizens is based on years of research interviewing and observing college life—with students of different races, genders, sexual orientations, and socioeconomic backgrounds. Hirsch and Khan's landmark study reveals the social ecosystem that makes sexual assault so predictable, explaining how physical spaces, alcohol, peer groups, and cultural norms influence young people's experiences and interpretations of both sex and sexual assault. Through the powerful concepts of "sexual projects," "sexual citizenship," and "sexual geographies," the authors offer a new and widely-accessible language for understanding the forces that shape young people's sexual relationships. Empathetic, insightful, and far-ranging, Sexual Citizens transforms our understanding of sexual assault and offers a roadmap for how to address it. 
The Beginning and End of Rape: Confronting Sexual Violence in Native America by Sarah Deer 
Despite what major media sources say, violence against Native women is not an epidemic. An epidemic is biological and blameless. Violence against Native women is historical and political, bounded by oppression and colonial violence. This book, like all of Sarah Deer's work, is aimed at engaging the problem head-on—and ending it. 
The Beginning and End of Rape collects and expands the powerful writings in which Deer, who played a crucial role in the reauthorization of the Violence Against Women Act in 2013, has advocated for cultural and legal reforms to protect Native women from endemic sexual violence and abuse. Deer provides a clear historical overview of rape and sex trafficking in North America, paying particular attention to the gendered legacy of colonialism in tribal nations—a truth largely overlooked or minimized by Native and non-Native observers. She faces this legacy directly, articulating strategies for Native communities and tribal nations seeking redress. In a damning critique of federal law that has accommodated rape by destroying tribal legal systems, she describes how tribal self-determination efforts of the twenty-first century can be leveraged to eradicate violence against women. Her work bridges the gap between Indian law and feminist thinking by explaining how intersectional approaches are vital to addressing the rape of Native women. 
Grounded in historical, cultural, and legal realities, both Native and non-Native, these essays point to the possibility of actual and positive change in a world where Native women are systematically undervalued, left unprotected, and hurt. Deer draws on her extensive experiences in advocacy and activism to present specific, practical recommendations and plans of action for making the world safer for all.