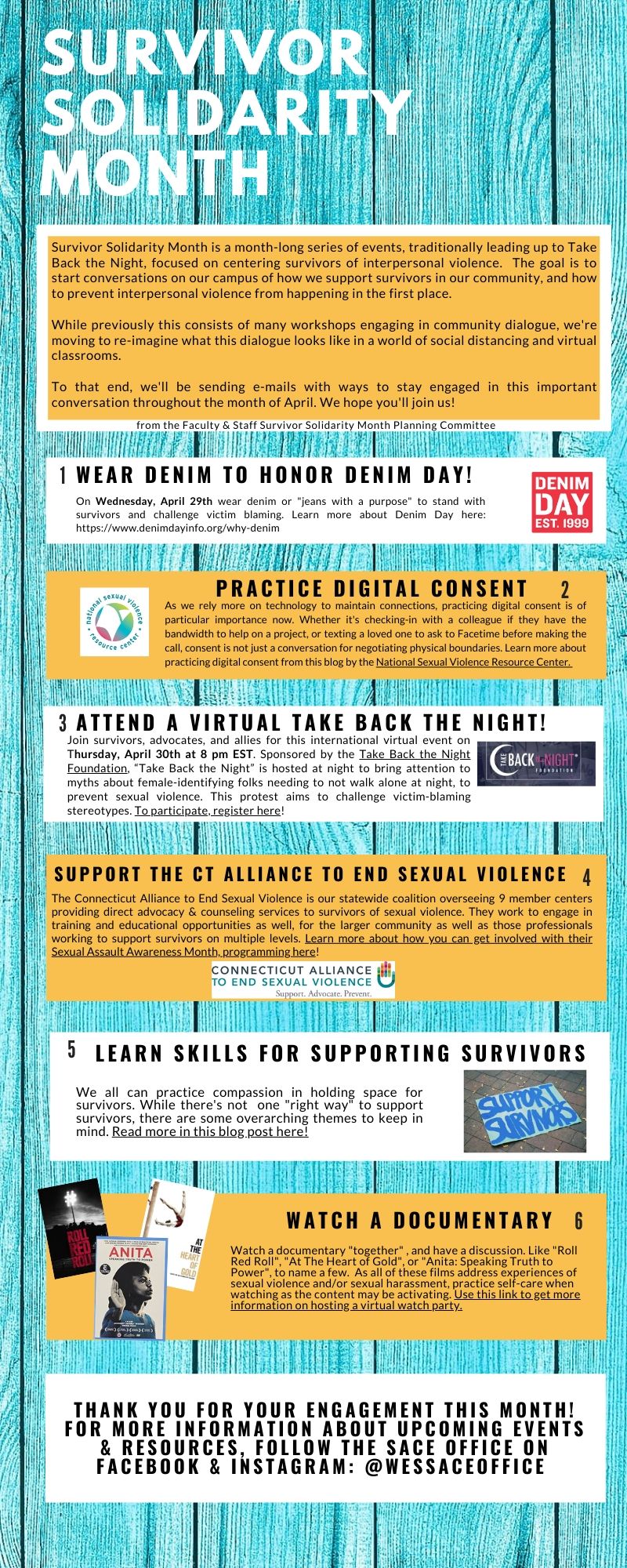 For the last week of Survivor Solidarity Month, here are some engagement opportunities:
Wear Denim to Honor Denim Day!
On Wednesday, April 29th wear denim or "jeans with a purpose" to stand with survivors and challenge victim blaming. Learn more about Denim Day here: https://www.denimdayinfo.org/why-denim 
Practice Digital Consent
As we rely more on technology to maintain connections, practicing digital consent is of particular importance now. Whether it's checking-in with a colleague if they have the bandwidth to help on a project, or texting a loved one to ask to Facetime before making the call, consent is not just a conversation for negotiating physical boundaries. Learn more about practicing digital consent from this blog by the National Sexual Violence Resource Center.
Attend a Virtual Take Back the Night Event
Join survivors, advocates, and allies for this international virtual event on Thursday, April 30th at 8 pm EST. Sponsored by the Take Back the Night Foundation, "Take Back the Night" is hosted at night to bring attention to myths about female-identifying folks needing to not walk alone at night, to prevent sexual violence. This protest aims to challenge victim-blaming stereotypes. To participate, register here!
Support the Connecticut Alliance to End Sexual Violence
The Connecticut Alliance to End Sexual Violence is our statewide coalition overseeing 9 member centers providing direct advocacy & counseling services to survivors of sexual violence. They work to engage in training and educational opportunities as well, for the larger community as well as those professionals working to support survivors on multiple levels. Learn more about how you can get involved with their Sexual Assault Awareness Month, programming here!
Learn Skills for Supporting Survivors
We all can practice compassion in holding space for survivors. While there's not  one "right way" to support survivors, there are some overarching themes to keep in mind. Read more in this blog post here!
Watch a Documentary
Watch a documentary "together" , and have a discussion. Like "Roll Red Roll", "At The Heart of Gold", or "Anita: Speaking Truth to Power", to name a few. As all of these films address experiences of sexual violence and/or sexual harassment, practice self-care when watching as the content may be activating. Use this link to get more information on hosting a virtual watch party.
Thank you for your Engagement this month! For more information about upcoming events & resources, Follow the SACE Office on Facebook & instagram: @WesSACEOffice