Read more about some exciting events!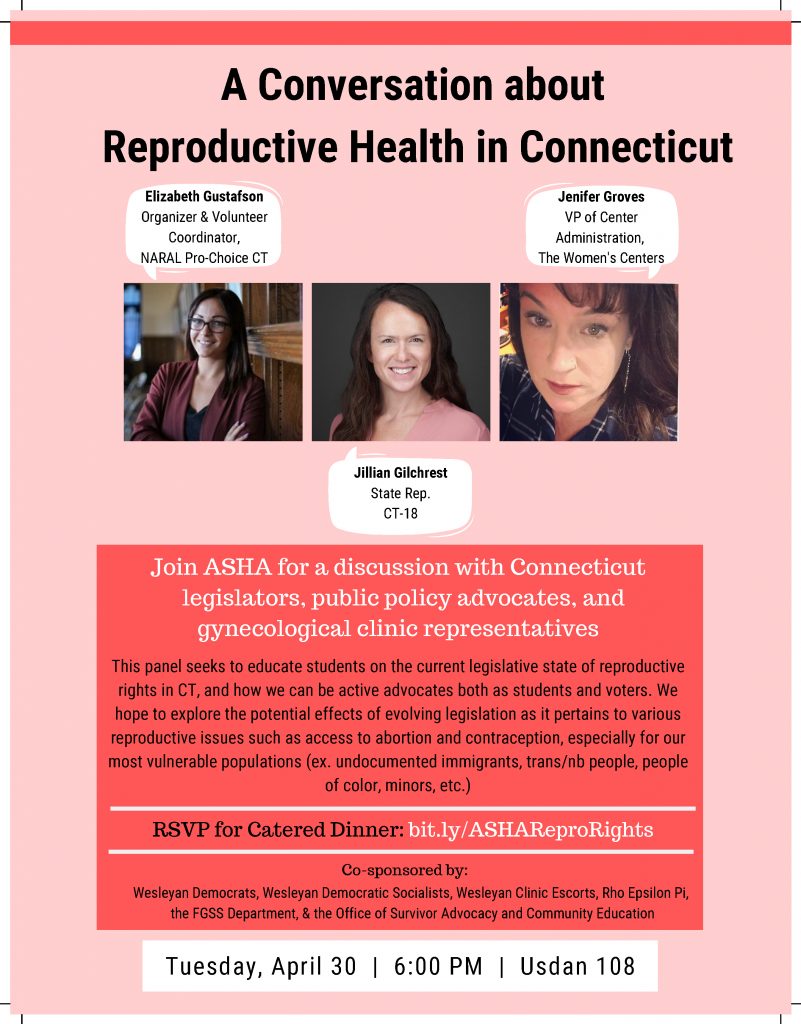 Reproductive Rights in CT Panel– Join ASHA for a discussion with Connecticut legislators, public policy advocates, and gynecological clinic representatives on April 30th at 6PM in Usdan 108! This event is co-sponsored by Wesleyan Democrats, Wesleyan Democratic Socialists, Wesleyan Clinic Escorts, the FGSS Department, & the Office of Survivor Advocacy and Community Education.
This panel seeks to educate students on the current legislative state of reproductive rights in CT, and how we can be active advocates both as students and voters. We hope to explore the potential effects of evolving legislation as it pertains to various reproductive issues such as access to abortion and contraception, especially for marginalized populations (ex. undocumented immigrants, trans/nb people, people of color, minors, etc.)
We will be serving DINNER at this event so please RSVP here if you plan on eating with us!
https://forms.gle/a3FmhQbCZ5Y25hBG8"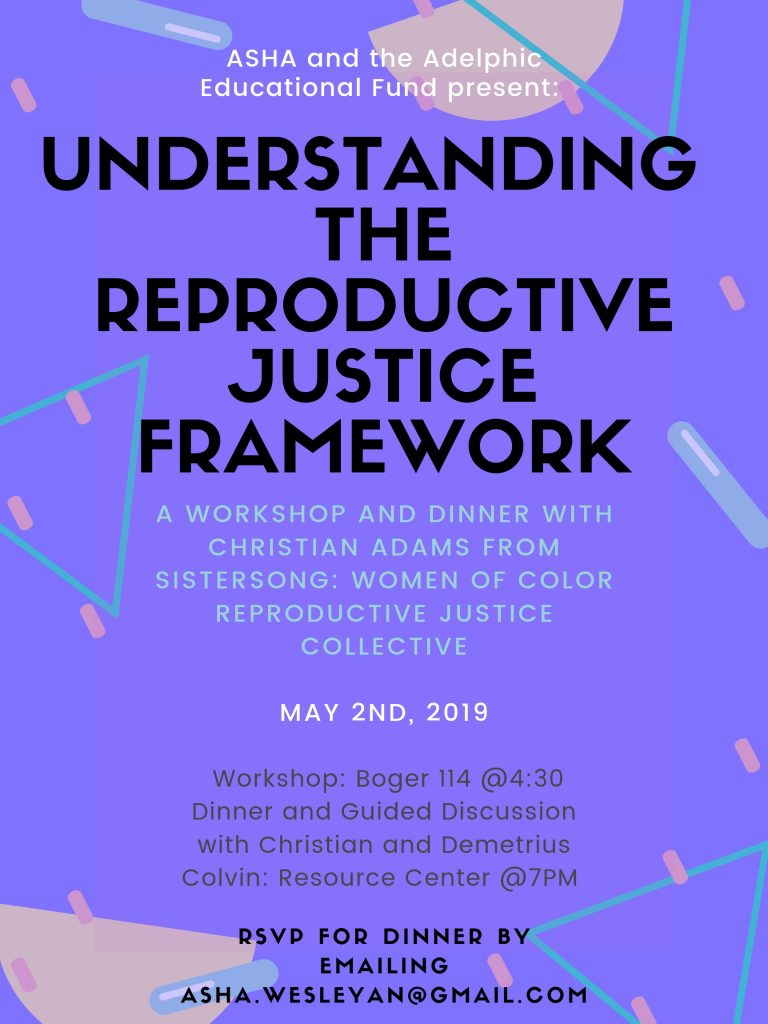 Reproductive Justice Workshop and Resource Center Dinner-  ASHA and the Adelphic Educational Fund are excited to welcome Christian Adams from SisterSong: Women of Color Reproductive Justice Collective to lead a discussion on the Reproductive Justice Framework. The workshop will be in Boger 114 at 4:30pm and will be followed by a dinner in the Resource Center (167 High St). We will talk with Christian and Demetrius Colvin, head of the RC, about reproductive justice work on-campus. If you would like to join us for the dinner, please RSVP here. https://docs.google.com/forms/d/e/1FAIpQLSdUv9HNdki17-msDxA5sB-e4DFgu9G8YkEhMtX1-eqw70-e-g/viewform
"Anyone who attends this workshop will conceptualize themselves as integral to the reproductive justice movement. They should learn from this workshop how to work with organizers and activists, to end reproductive oppression. They will understand how to be a useful part of Reproductive Justice for people of color who need a safe and nonjudgmental space to discuss their goals, fears, and hopes for having or not having children. It is our hope that Reproductive Justice will not only inform folks work with women and families of color encountering obstacles to reproductive freedom, but that more people will ultimately become change agents and active contributors to the movement for comprehensive Reproductive Justice." – Christian Adams
If you'd like to read more about SisterSong and the concept of Reproductive Justice before the event: https://www.sistersong.net/reproductive-justice/
We hope to see you there!